Asking for Help
The Difficulties of Reaching Out During Times of Need
In 2019, the National Institute of Mental Health estimated that more than 51 million adults across the country have a mental disorder. That number represents nearly 1 in 5 Americans over the age of 18.
Of those 43 million people, more than half may go without treatment or care for their conditions, which can range from anxiety and depression to PTSD and substance use disorders.
We surveyed more than 1,000 Americans with disorders about how comfortable they were asking for help and what held them back. We explored what it felt like to seek support and what Americans' biggest fears were when doing so. Continue reading to see what we learned.
Reaching Out for Help
If you've ever struggled with something such as dealing with feelings of sadness or anxiety, and you've been reluctant to ask for help, you're not alone. The fear that holds us back from seeking aid becomes a natural response that many Americans learn at a young age.
Our survey revealed that 2 in 5 people believed it was extremely difficult or impossible to ask for help. What were the disorders for which Americans had the most difficulty seeking help? Eating disorders—as reported by nearly half of those surveyed. Across the country, up to 30 million people may suffer from an eating disorder, like anorexia or bulimia, over the course of their lifetimes.
Americans also had difficulty seeking help for depression, anxiety, and PTSD. These responses may be a result of the sometimes widespread misconceptions that exist about the prevalence and severity of disorders in the U.S. today.
Strong Emotional Sentiments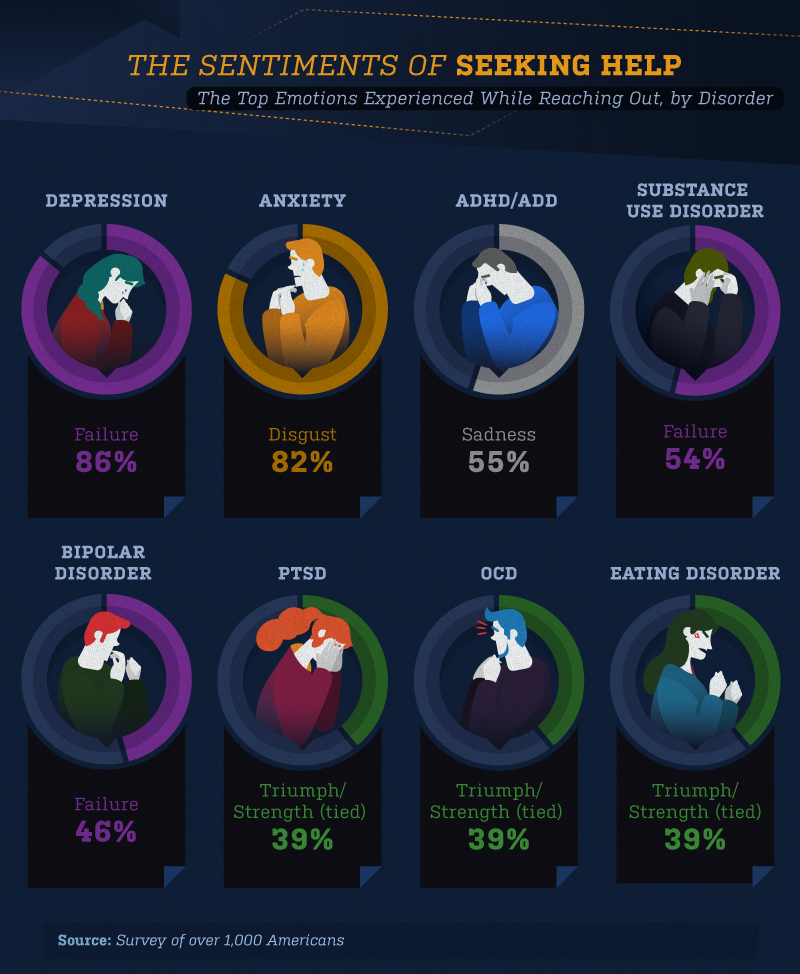 We asked Americans with disorders how it made them feel to ask for help; a majority expressed negative emotions in connection with seeking help.
The stigmas often associated with disorders can have a profound effect. While nearly 1 in 5 Americans will have a mental health disorder over their lifetime, the negative stereotypes often associated with these conditions (and the people who have them) can become a huge roadblock to recovery.
Of the survey respondents who had an anxiety disorder, 82 percent felt disgusted by the thought of asking for help, and 86 percent of respondents who had depression said the notion of seeking support made them feel like a failure. Still, some people surveyed had a positive perception of asking for help. More than a third who had PTSD, OCD, or an eating disorder said asking for help made them feel triumphant.
The Truth Behind Not Seeking Help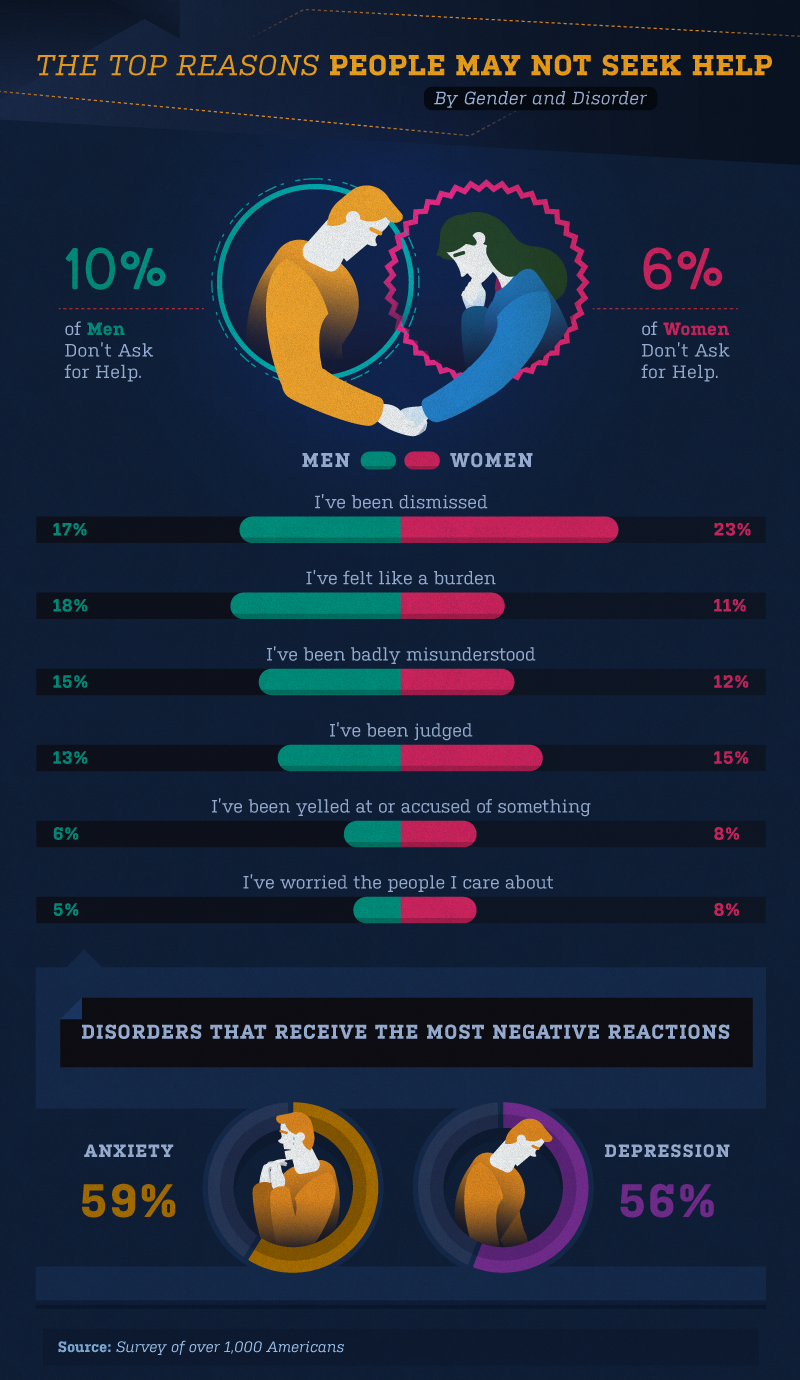 Our survey also revealed that men and women had different feelings about asking for help with their disorders.
We found that 10 percent of men wouldn't ask for help, compared to 6 percent of women. Men were also more likely to feel like a burden or be badly misunderstood after sharing their problems, while women expressed feeling judged or being dismissed for their feelings.
While men and women both face stereotypes and stigmas around their personal needs, men may be especially prone to their effects. Gender-normative assumptions about strength and dexterity may lead men diagnosed with disorders, such as depression and PTSD, to feel uncomfortable opening up or asking for help in a time of crisis.
Where We Find Help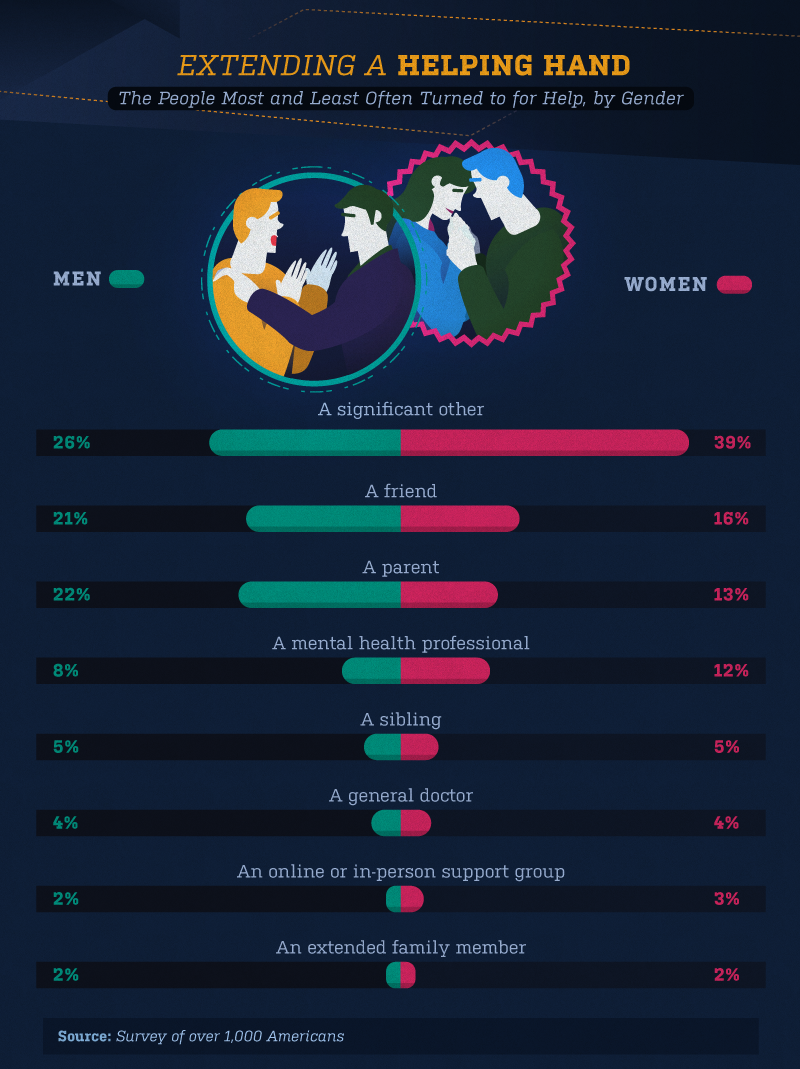 When it comes to asking for help, who are we the most likely to turn to?
According to those surveyed, 39 percent of women most often turned to their significant others. While 26 percent of men were comfortable leaning on their partners for support, they were more likely than women to turn to a friend or parent.
Since romantic partners are the first line of defense for a majority of men and women, experts recommend learning about a partner's struggles, but encouraging professional treatment. In these instances, professional help can provide more consistent, stable support to both parties.
Seeking professional help may not always be the first (or second) response for people with disorders. Of those polled, 8 percent of men sought help from a mental health professional, while 12 percent of women did the same.
What Matters Most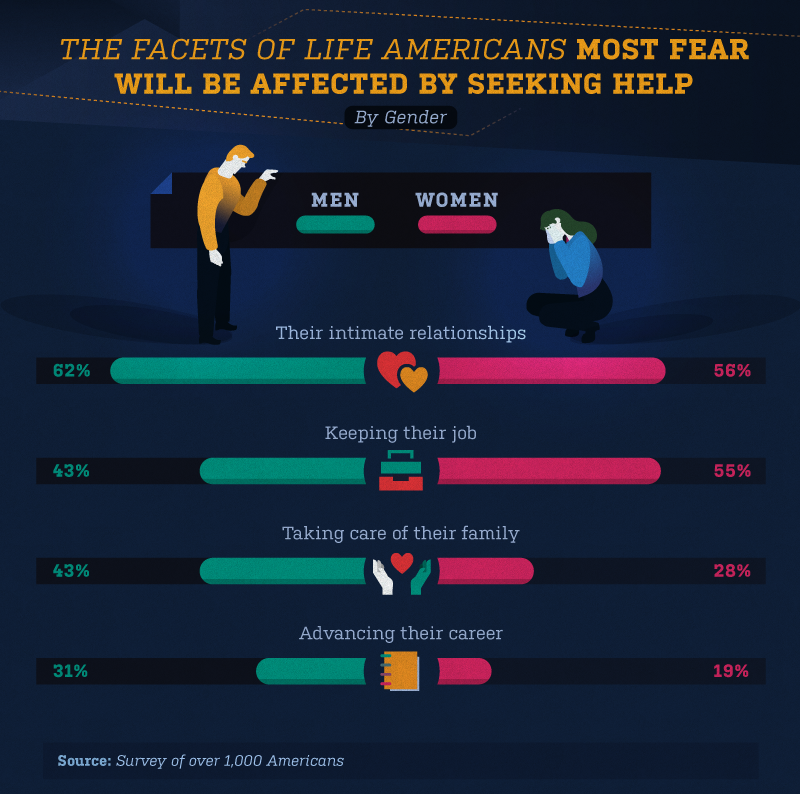 A majority of Americans who had at least one disorder recognized that their condition didn't just affect them—it also impacted many elements in their lives.
More than half of all men and women feared that seeking help would negatively affect their most intimate relationships. The stress from disorders can often be compounded for people in relationships—priorities may feel stretched between the relationship and manifestations of the disorder.
More than half of women and over two-fifths of men were also concerned about keeping their jobs after seeking support. In some industries, people with disorders, such as PTSD and anxiety, may fail to seek treatment due to the fear of losing their jobs because of the stigma attached to these disorders.
Other primary concerns of survey respondents included being able to care for their families and advancing their careers.
Your Road to Recovery
Asking for help shouldn't be hard. Research shows that disorders, like depression and anxiety, aren't a reflection on our character, or even our ability to handle adversity. Instead, they may be a result of our brain chemistry or even our genetics. Despite some widespread misconceptions, there is no one-size-fits-all approach to treatment.
SurveyMonkey.com, website last visited on August 3, 2017.
American Psychological Association, The roots of mental illness, website last visited on August 3, 2017.
PsychCentral, When Mental Illness Strikes: Tips for Couples, website last visited on August 3, 2017.
FleetOwner, Underreported: Drivers not seeking help for mental health issues, website last visited on August 3, 2017.
The Guardian, 'As boys, we are told to be brave': men on masculinity and mental health, website last visited on August 3, 2017.
Eating Disorders Coalition, Facts About Eating Disorders: What The Research Shows, website last visited on August 3, 2017.
U.S. Dept. of Health and Human Services, Mental Health Myths and Facts, website last visited on August 3, 2017.
National Institute of Mental Health, Any Mental Illness (AMI) Among U.S. Adults, website last visited on June 7, 2021.
Mental Health America, New State Rankings Shines Light on Mental Health Crisis, Show Differences in Blue, Red States, website last visited on August 3, 2017.
Anxiety and Depression Association of America, Spouse or Partner, website last visited on August 3, 2017.
Methodology
We surveyed more than 1,000 Americans about asking for help with their diagnosed or undiagnosed disorders. We asked participants to rate the level of difficulty of asking for help, which people they turned to for support, and basic demographic questions.
Fair Use
If you would like to share our findings (for noncommercial purposes) on the difficulties of asking for help, please link back to this page so that proper credit is given.